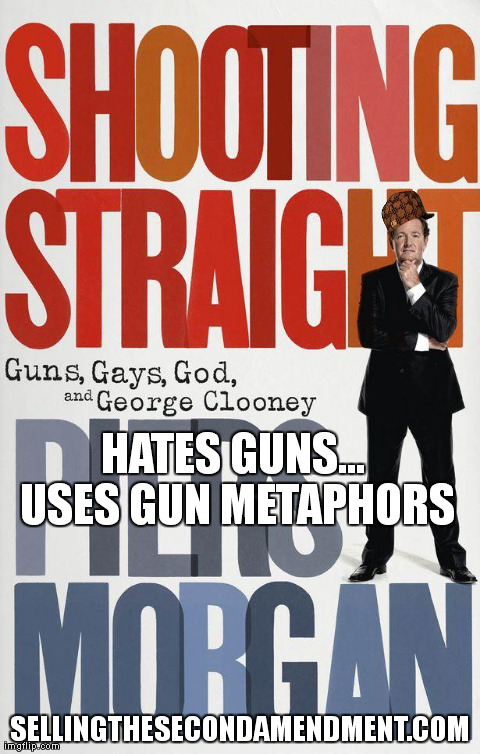 Piers Morgan was born in a gun-hating country, became a gun-hating brit, and now is a Green Card resident of the US of A, not an easy feat for most legal immigrants by the way,  yet instead of dropping that slavery-loving baggage from the UK, he has brought it with him. Instead of becoming an America, he remains a Red Coat.
In America he had an opportunity to be free, but instead of being free, he's a slave that wants to put other people in chains.
So what will you find in Pier's Little Red Book? Nothing much, the story of his life, being a single father,  doing two shows at the same time in London while juggling with family life, you know, the typical puff piece these people write so to promote themselves, so they can tell their friends, "look, I wrote a book."
Amazingly, some gun-haters HATE Piers Morgan. Look at what Patricia Burstein's comment.
Patricia Burstein says:

Perhaps this is in part true but most certainly not the whole story. I am, for example, a staunch gun control advocate, and I find Piers Morgan and his insubstantial book useless. I gave him a one-star. Had there been no stars, I would have done that. Morgan's gun control shtick is ratings-driven and ill-informed. He goads gun-loving fringe people and then insults them. He's a circus performer, but a clever operator. If he is dropped from CNN and/or his book sales fail he can claim it's because of his outspoken political views.
Source: http://www.amazon.com/review/R3LGFMJ38LRSDJ/ref=cm_cr_pr_cmt?ie=UTF8&ASIN=B00BHHDNFY&linkCode=&nodeID=&tag=#wasThisHelpful
Wow, an honest gun hater, who knew one existed? I guess some of them are more strategic, some care about tactics.