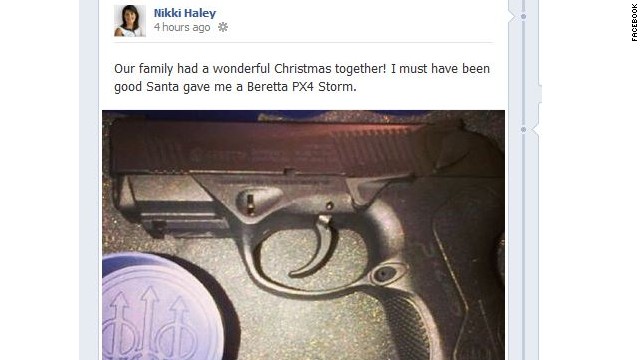 And she tweeted about it, isn't the South Carolina governor Super Cool? I think so.
"Our family had a wonderful Christmas together! I must have been good. Santa gave me a Beretta PX4 Storm," Haley said in an Instagram post that included a photo of the weapon.

Haley has an "A" rating from the National Rifle Association, and hasn't been shy about her fondness for guns in the past, including by test-firing a fully automatic machine gun at a state firearms manufacturer over the summer. Her husband is a member of the Army National Guard.

Haley announced over the summer that she is seeking a second term in her conservative, GOP-leaning state.
Source: http://politicalticker.blogs.cnn.com/2013/12/26/south-carolina-governor-got-a-gun-from-santa/
That's right, CNN, unlike il duce Cuomo, Nikki Haley is a real Second Amendment patriot.